Rise Star Hunting
Comments

0
34pages on
this wiki
Welcome to the homepage of Star Hunting from the RISE Gaming Wiki, the home of your information regarding the hunting component of the game.
Got a question? Please visit RISE Staff Page to find a staff member who can assist you in making your gaming experience as enhanced and amazing as possible.
Getting Started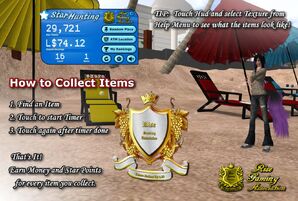 Welcome to Star Hunting. In Star Hunting, your goal is to find a number of hidden magic shields and jewels across the various lands. Each find you make credits you a certain amount of linden dollars, and also you receive a value of star points for all your finds.
Star points levels your account. Please click the two links below if you need assistance knowing the items we have to offer out there in this game.
Quick Links
How To Get Earnings
After collecting a number of items, you probably wonder, how do I get what I collected?
Use your HUD (seen below) and click the "ATM Location".
Then click the ATM (assuming you have L$1 in your account) and you get paid instantly!
L$1,000 maximum daily cap, no longer increases based on your level.
ATM Locations
Third Location goes here
HUD - Star Hunting
Yes, the Star Hunting game will have a HUD that will allow you to find places.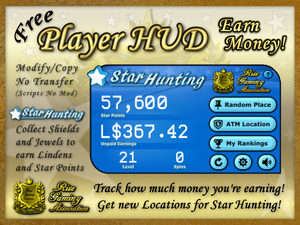 Features:
Ability to find random locations
Keep track of your current Star Hunting Level
Your total Star Points you can earned
Any Star Destiny Wheel spins you have won
Keep track of your weekly and lifetime hunting rankings
4 scripts and very easy to use!
Pick a copy up at any HUD Kiosk. Marketplace will be available again soon.
Star Hunting - The Values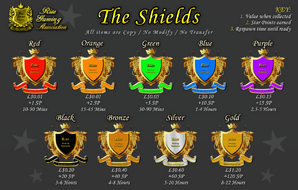 Players can find any of the 21 items out there.
They range from Red Shields (worth L$0.01) to Super Jewels (worth L$30.00)
As players level up, they will see a number of perks and bonuses that they recieved for their hard work, such as Loot Bags or free Star Destiny Wheel spins!
There are 100 levels in the game.
You also receive tags for reading Level 40 and Level 80, respectively.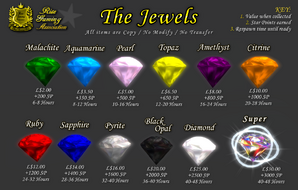 Star Hunting Player Rewards
For Leveling Rewards (through Experience Table) visit this page.
For Weekly Contest rewards - visit this page.
Star Hunting - Experience Table
Please visit Star Hunting/Experience Table for the table.
Landowners - Star Hunting
Landowners can purchase a variety of packages which will help them increase their effective traffic and also they will receive a custom built page on this website with all information.
We also have an upgrades system - A landowner can purchase a free pack and upgrade their fee cost lower. (please visit Contact Us for more information).
What Each Pack Includes
Each pack includes 21 hunting items - The core of the game! - All 21 are Copy/No Mod/No Transfer

Bronze, Silver and Gold packs also include a Petite Package (21 Small Items) at no cost!

A Touch to get HUD Kiosk - Get new active players daily! - Copy/Mod/No Transfer
Landowner's Server Controller - (see below) - Copy/No Mod/No Transfer
Location Overrider - Allows you to change landing points. - Copy/No Mod/No Transfer
Vendors
We now use a license system to allow owners to pay for what needs they want. The more they pay initially, the lower the fee rate.
License Packs
| Name | Fee | Upgradeable? | Price | Image |
| --- | --- | --- | --- | --- |
| Free Pack | 65% | Yes - Bronze/Silver/Gold | FREE | |
| Bronze Pack | 50% | Yes - Silver/Gold | L$3,749 | |
| Silver Pack | 25% | Yes - Gold | L$7,749 | |
| Gold Pack | 10% | No - This is best one! | L$13,749 | |
Upgrade System
To upgrade items, click any of your hunt objects and click the "Upgrade" button.
When upgrading items, you only pay once and all your future charges will have that upgraded fee pack.
Free Upgrades
Free to Bronze - L$3,749
Free to Silver - L$7,749
Free to Gold - L$13,749
Bronze Upgrades
Bronze to Silver - L$4,000
Bronze to Gold - L$10,000
Silver Upgrades
Star Destiny Wheel Rewards - Star Hunting
For full information visit Star Destiny Wheel page.
Honorable Mentions - Star Hunting
There are several different honorable mentions. Most of these honorable mentions award the player Destiny Wheel spins, but there are a few out there that award the player titles, and different special rewards.
Star Hunt Expert - Reaching Level 40 in Star Hunting Leveling chart.
Star Hunt Master - Reaching Level 80 in Star Hunting Leveling chart.
Rise Legend - Reaching Level 100 in Star Hunting & Star Fishing.
For a list of all players with honorable mentions, please visit Star Hunting/Honorable Mentions.